This Sunday was bright and sunny. I was tired after helping my daughter do a charity event on the Saturday evening and of course the pesky clocks went forward. Any sensible mortal would plan a lie in to counter the loss of an hour followed by a walk in the park perhaps. Not I. Along with something like 150 other writers or aspiring writers I got up early and traveled to a leafy suburb of Leicester to attend the 2nd Self-Publishing conference run by Troubadour Publishing.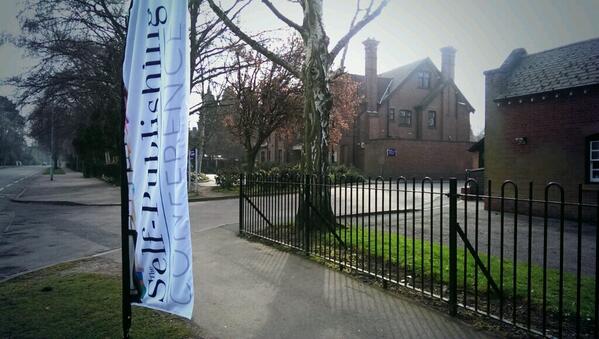 I had heard of this event via a friend Helen Hollick, who in many ways is my mentor having giving me the kick start I needed 4 years ago to adopt a professional approach to self-publishing. By the way I can massively recommend her book on editing fiction called  Discovering the Diamond – co written with Jo Field.
This was not an expensive day. Registration fee was £55.00 per person. This includes a delegate's pack, morning coffee, buffet lunch, afternoon tea and a choice from many sessions on different aspects of self-publishing.
The structure of the day was an introduction by the CEO of Troubador and a key note speech by Alysoun Owen the editor of the Writers and Artists year book which was a good over view of the current state of publishing and self publishing. She showed us the growth of self publishing in the last few years and how it both has become a viable approach for many authors but also a massively competitive area due the simple vast numbers of authors and aspiring authors out there.
The rest of the day was split into 4 sessions of 75 to 90 minutes each divided by coffee breaks and lunch.  Accross these 4 sessions there were 21  different sessions to choose from and I found that I often had a tough decision between more than one speaker. The sessions I chose were:
Working Successfully with bookshops and libraries to sell your books. 
The speakers took us through approaching local libraries individually, developing a relationship perhaps by offering events and free books, to going through the central buying departments.  With budgets shrinking the message was that is is not easy to get adopted in every library and you are more likely to succeed with local studies and history/ interest books than fiction.  As for getting into bookshops we were encouraged to ensure books were of course well presented and professional, on distribution via Gardners etc but even then there would be a low chance of getting onto the shelves of Waterstones and Smith.
One useful snippet from this talk is to keep an ear to the ground on any upcoming festival or literary event in libraries etc as you might just have a book or books that could fit. Then contact community librarians and offer up talks etc.
From Self-publishing to mainstream and back again
Polly Courtney was an investment banker who after working in the city left to write books on her experiences. Her first novel Golden Handcuffs failed to gain much interest until the 2008 financial crash when she self published, managed to get coverage linked to the crash and basically that kicked off her sales. She was picked up by Harper Collins and had a frustrating time finding that they would design covers that did not suit her books or even give the books titles that were wrong.  She eventually came back to self publishing and has a successful career writing as well as doing talks. An interesting message I took from her talk was the need to be very proactive with marketing books and to be open to the right opportunity that the world flings at you.
Whilst Waiting for Helen Hollick to go to lunch I chatted to Jane Rowland former editor of the Self Publishing magazine and she reminded me that the magazine does take review books from self published authors. Over Lunch Helen and I discussed having books in print in the USA and UK and the possible needs for different covers and editions.
 Promoting your Book to Online Bookshops
This session by Steve Potter of Wordery covered how to get your books on sale on Amazon, Wordery and elsewhere but also marketing using Twitter, Pinterest etc. the sheer vastness of social media means that one needs a focused strategy so as not to loose all day online. Checked on my ipad and my books are on sale on Wordery too so that was one job I dont need to do.
Successful Promotion for Children's Authors
Basic take home message: for all children under 8 you are trying to reach the parent not the child. For 8 to 12's its a mix of getting the message across to child and parent and for teens it is the reader themselves. Reviews are critical and here there are many blogs and sites who will do reviews. The talk covered doing school visits etc.
As I say there were many other sessions on for example ebook publishing, book covers, book reviews and the importance of employing a good editor etc.
Overall I found that I was doing most things I should be doing but I did pick up a snippet or two from each talk to take further. The conference allowed for a lot of networking and  I did think that what would REALLY help would be a full list of delegates, who they were and what they were as well as speakers along with contact info for everyone as I think many of us wanted to follow up chats we had during the day. So my feedback would be to have a contact list.
Otherwise I can not think of very much wrong with the event and can recommend it to aspiring writers and indie/ self publishers.